Sir John Suckling Turns 400!
Very few sports, hobbies, or games can claim descent from a 400-year-old swashbuckling literary wannabe—but cribbage does! The world's greatest card game was invented in the 1600s by Sir John Suckling, a poet and knight who was a bit of a rogue. Born on February 10, 1609, Sir John will soon turn 400. The American Cribbage Congress and the Sands Regency Casino Hotel will celebrate the quadricentennial of our patron saint/sinner during the world's largest cribbage tournament on February 6–8. Over 1,000 cribbage players will gather in Reno NV to battle for top honors and the $10,000 first-place prize money (with an aggregate purse in all events estimated at a quarter million dollars). Here are some cool ways to celebrate Sir John's 400th birthday.
Meet the Sucklings
When Sir John Suckling died in 1642, he fortunately had had the good sense to reproduce. Ever since, the Sucklings have been a prolific bunch, and there are several branches of the family living today in Britain and the United States. While we tried (and unfortunately failed) to entice some of his descendants to attend the ACC Open in Reno next month, rumor has it that Sir John himself might make an appearance!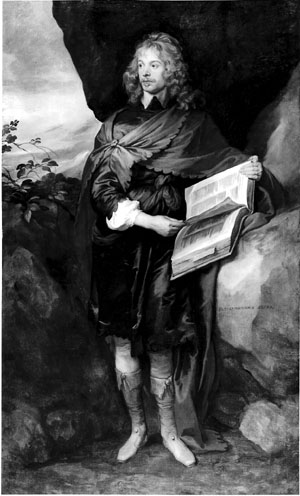 That 29-Thing You Do
Do you think that Sir John Suckling ever held a 29-hand? Have you? Here's an easy way to make sure that the next "29" you get is a profitable one. Enter CW Contest #3 by submitting on a postcard any whole number between 1 and 216,580 that contains a "29." If you submit the lowest whole number containing "29" that isn't submitted by anyone else, you will win a $50.29 Applebee's gift card. Mail entries to CW Contest #3, P.O. Box 313, Ada MI 49301-0313. See full rules in the December Cribbage World, page 26.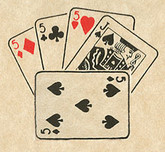 1609 Was a Very Good Year
Sir John Suckling was born 400 years ago next month. To honor the year of his birth—1609—all players who get a 16-hand/9-crib combination during the 22-game qualifying round of the JPW/ACC Open on Saturday, February 7, will receive a commemorative Sir John Suckling postcard and a Sands cribbage t-shirt. In addition, from this group of players we will draw one grand prize winner—a weekend suite at the Sands Regency during the July or November 2009 tournament.

Peg for the Gold
It goes without saying that the best way to celebrate the 400th birthday of Sir John Suckling is to come to Reno to play in—and win—the JPW/ACC Open on February 7–8. First place is worth a cool ten grand! And while you're at it, why not come a day early and play in the Tournament of Champions on Friday, February 6. The ACC Open entry form may be found on the centerfold of the December Cribbage World. TOC invitations and entry forms were (e)mailed in November. The deadline for signing up is January 23, which may be done via mail or online at sandsrenoevents.com.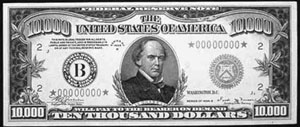 Share Suckling with a Friend
Many years ago, the ACC tried to convince the U.S. Postal Service to issue a stamp in honor of Sir John Suckling. Despite yeoman efforts by many members to gather signatures, the idea was rejected because of, shall we say, Sir John's character flaws. Not to worry, Sir John is at last getting his postal recognition: a special postmark honoring his 400th birthday at the world's largest cribbage tournament. The Reno post office will set up a retail office at the Sands and make the postmark available to all players on Saturday, February 7. You can send a letter to a friend back home, mail your souvenirs home so you don't have to lug them on the airplane, or simply get a cribbage keepsake. If you cannot attend the ACC Open, this postmark will also be available by sending a SASE to Cribbage Station, Postmaster, 2000 Vassar St, Reno NV 89510-9998. See full instructions in the December Cribbage World, page 4.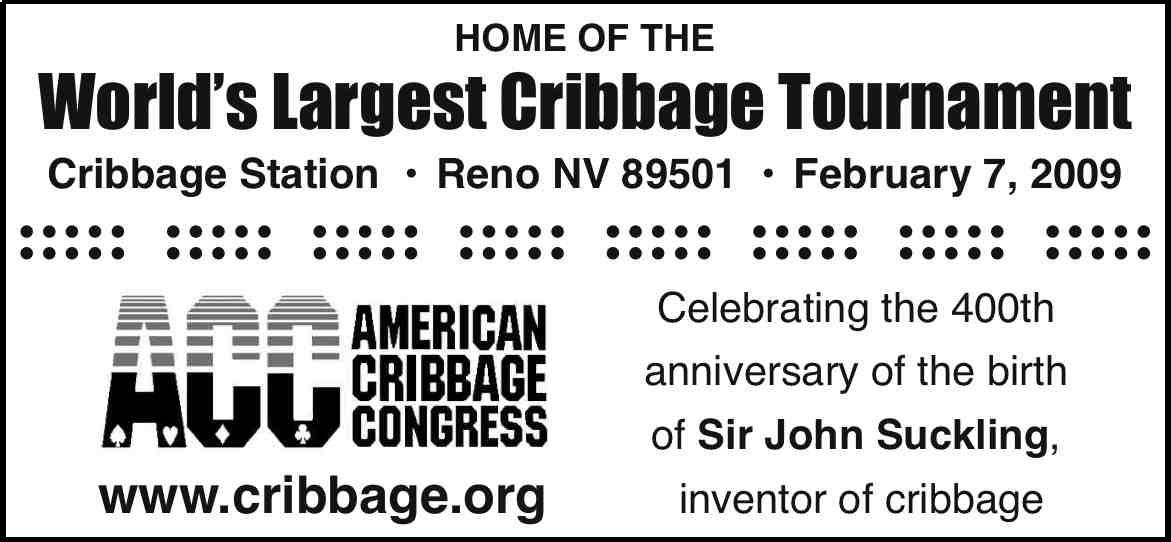 Poke Fun at the Cribbage Bard
What better way to celebrate the 400th birthday of the inventor of the world's greatest card game than by poking fun at him! Enter CW Contest #4 by writing a cribbage-themed parody of Sir John Suckling's most famous poem—"Why so pale and wan, fond lover?"—and win fame (your parody will be printed in the March Cribbage World) and fortune (a $50.29 Outback gift card). Mail your winning entry to CW Contest #4, P.O. Box 313, Ada MI 49301-0313. Full rules were published in the December Cribbage World, page 27, and are supplemented here: entries will be judged on their (a) cribbage theme, (b) faithfulness to Suckling's poetic structure, (c) humor, and (d) originality. The decision of the judges is final.
Why so pale and wan, fond lover?
Prithee, why so pale?
Will, when looking well can't move her,
Looking ill prevail?
Prithee, why so pale?

Why so dull and mute, young sinner?
Prithee, why so mute?
Will, when speaking well can't win her,
Saying nothing do't?
Prithee, why so mute?

Quit, quit, for shame, this will not move:
This cannot take her.
If of herself she cannot love,
Nothing can make her:
The devil take her!
Visit Sir John at the Frick
The elegant galleries of the Frick Collection—an internationally renowned museum that is one of New York City's most remarkable cultural treasures—is housed in the former mansion of industrialist Henry Clay Frick. It contains some of the most exceptional works of Western art. Ranging from the Renaissance through the late nineteenth century, the collection includes works by celebrated artists such as Goya, El Greco, Holbein, Manet, Monet, Rembrandt, Renoir, Titian, Vermeer, and Whistler, as well as fine French porcelains, Italian bronzes, sculptures, and period furniture. Among the many beautiful portraits on permanent view in the Oval Room of the Frick Collection is Van Dyck's painting of Sir John Suckling, inventor of cribbage. This oil-on-canvas portrait measures 85½" x 51¼" and was painted between 1632 and 1641. (Note: this painting will be temporarily off view from February to May 2009.) For further information, go to frick.org.